Roatan Scuba Diving
Roatan Honduras is one of the greatest scuba diving vacation destinations. Located in the western Caribbean Sea and has the second largest barrier reef in the world, this tropical island has everything you could imagine for your scuba diving adventure, fun dives, day or night, wreck diving, scuba lessons and certification.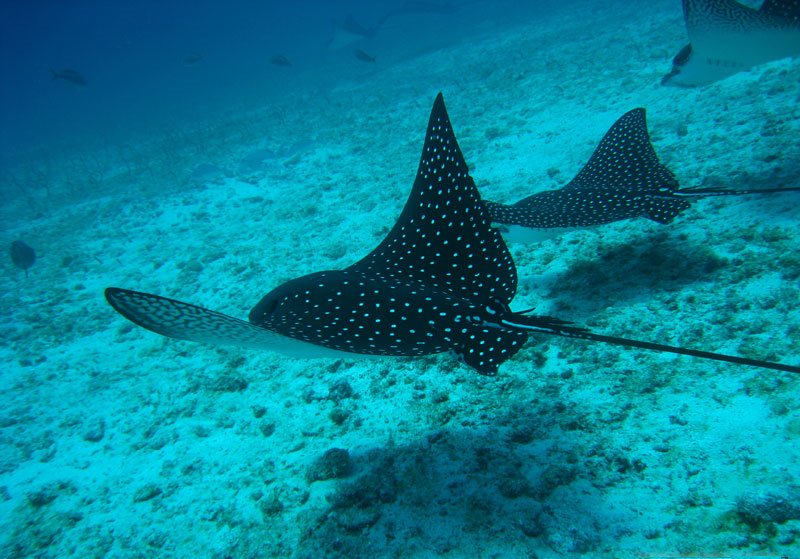 Roatan has a variety of diving resorts, and many small hotels and independent diving operators who offer fantastic diving opportunities at very good prices. Coconut Tree Divers in West End Roatan is by far the most experienced and popular dive shop on the island,. If you are interested in TEC diving, Caribbean Sidemount Diving is the dive shop on Roatan to see. Scuba diving is one of the main attractions of Roatan. You must bring your certification card to participate in and scuba diving activity on Roatan.

Some of the most popular dive sites on Roatan are: Calvin's Crack, Spooky Channel, Barbareta wall, West End Wall, Enchanted Forest and Insidious Reef, Connie's Dream, Doc's Elbow, Mary's Place, Trunk Turtle Bay Beach & Pigeon Cays. Wreck Diving – "Prince Albert and "El Quila".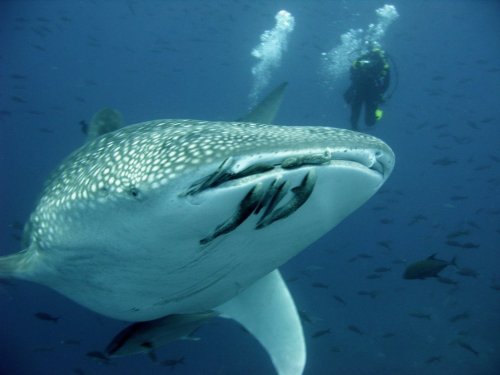 Roatan has a huge diversity of sea life. It is not uncommon to see octopus, moray eels, dolphins, sting rays, puffer fish and giant grouper on the same dive. Whale sharks regularly pass by Roatan in the Spring and Fall. Many scuba divers come to Roatan to watch the whale sharks migration.
Roatan has a hyperbaric chamber located at the Cornerstone Medical Clinic at Anthony's Key Resort in Sandy Bay. The clinic offers dependable hyperbaric healthcare to recreational and commercial divers. While our commitment is to ensure the safety of everyone, it is nice to know that medical facilities and a hyperbaric chamber are on site.

Most dive operators on Roatan offer the option to obtaining your choice of the following PADI diving certification courses: Advanced Open Water, Rescue Diver, Emergency First Response, Divemaster, Assistant Instructor, Open Water Scuba Instructor
Roatan Shark Dive Video
Roatan Scuba Diving Picture Gallery
Since words cannot describe the beautiful underwater world of Roatan, here are some pictures to give you a peek at the incredible reefs of Roatan.
Protecting the Reef's of Roatan


Please help support coral reef conservation on Roatan by being a coral conscience diver or snorkeler. When choosing your diving or snorkeling destination on Roatan please look for parks or marine conservation areas.

You can do your part to protect Roatan's coral reefs by taking the time to learn about the coral reefs and keeping your diving skills well tuned. Learning to have good body control and finning is extremely important, even the slightest touch of the coral can harm it or possibly harm you.

Please keep contact with the marine life to a minimum. Do not touch, chase, or attempt to ride any marine life. Feeding the marine life is discouraged and do not take anything dead or alive out of the water.

Often it is illegal to make souvenirs from coral, turtle or any other type of marine life. Do your part in preserving Roatan's coral reef by avoiding these purchases.

Underwater cleanups are another way Roatan is protection the coral reefs. By removing items such as: plastics, tin cans, fishing lines, cloth items, batteries and cigarette butts from under the water the coral reef can remain a beautiful and healthy place to dive and snorkel.

Please help preserve Roatan's coral reef by going slow, relaxing and watching the reef creatures go about their daily lives undisturbed.


Roatan Scuba Diving Tags
Roatan Honduras Scuba Information, Roatan Honduras Cruise Ship Excursions, Roatan Cruise Ship Activities, Things to do on Roatan, Roatan Scuba Diving Vacations,
Activities on Roatan
Car and Bike Rentals on Roatan